Luiheid, onkunde en een niet aflatende liefde voor muziek. Zou ik daar een businessmodel van kunnen maken? Het bepaalt in ieder geval wel voor een groot deel mijn modus operandi in het schrijven van liedjes.
Afgelopen week aan versie 2.0 van 'Licht En Horizon' gewerkt. Het liedje staat als demo sterk maar omdat ik de multitracks niet niet meer heb (het liedje was geschreven in het kader van een 7-dagen-7-liedjes-challenge) moest ik van de demo een betere nieuwe versie maken. Normaal gebruik ik de demo als startpunt en voeg laagjes toe en haal laagjes eraf totdat die demo begraven ligt ergens in het uiteindelijke resultaat. Dat is een bijzonder bevredigende manier van werken. En geen last van
demo-itis
want de demo vormt vrij letterlijk de basis van het arrangement. De sfeer van de demo blijft behouden.Die gaat het eerst verloren in het geval van demo-itis.
Dus na al mijn gepraat over werken met kleine stukjes muziek en die samensmelten tot grotere stukken, met al mijn goede bedoelingen de liedjes voor het album op een andere manier in elkaar te zetten, blijkt toch dat ik zeer ouderwets een demo opnieuw aan het inspelen ben. Het gekke was, alles werkte goed, gign van een leien dakje, gitaren stapelen, drums uitwerken (worden later nog voor het echie ingespeeld), synth-sounds bepalen, maar het miste de opwinding van de zoektocht naar iets nieuws. Nieuwe geluiden, nieuwe ideeën, nieuwe werkwijzen. Anders gezegd, ik was vastgeraakt in demo-itis.
Er is nog een ander liedje dat inmiddels aan versie 7 toe is en dat maar niet de charme kan terugvinden van die eerste gemankeerde opname. We gaan richting versie 8 in de hoop dat het kwartje valt en dat ik het op dit album kan slijten. Volgende keer meer over het concept conceptalbum.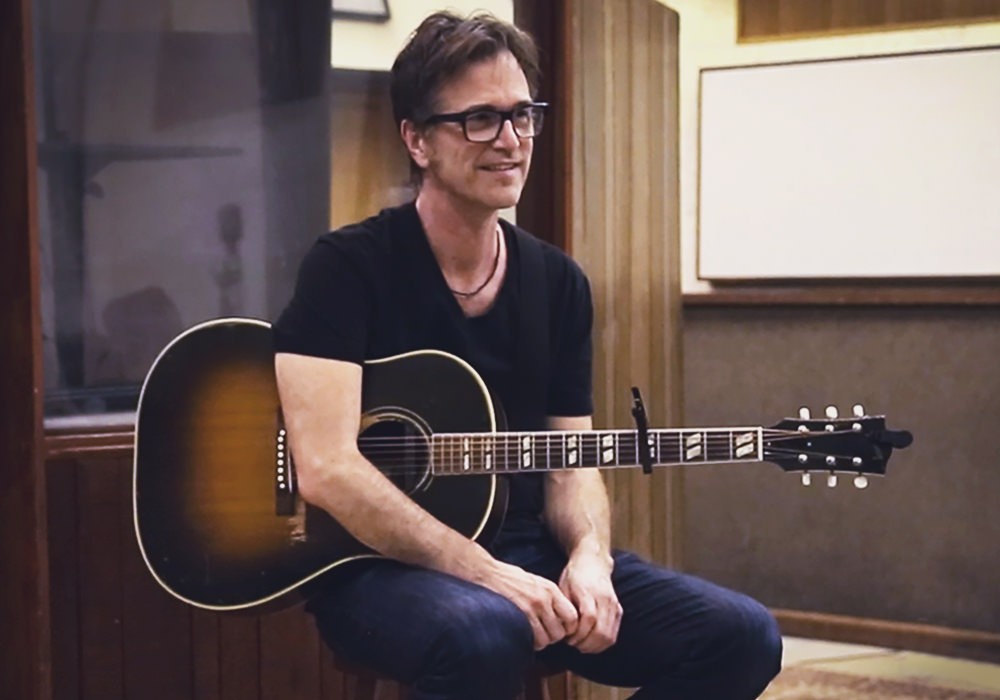 Dit is
Dan Wilson
over demo-itis: "Demo-itis is the general fact that you're always going to like the first version of a song you hear best. Demo-itis is a specific case, because most normal people don't get to hear the demo of a song, but often, the demo is recorded when the idea is fresh and alive and new and thrilling to everyone involved, and they don't even really realize that - they're just riding the wave of the idea that they're creating.
The demo is finished and everyone listens to it, and it slowly dawns upon them that this song is tremendous, and they fall in love with the demo because it carries that fresh impulse of the idea, and because it's the first version of the song that they've ever heard. Then they go into the studio or wherever it is that they record, and they try to get that to happen again with a better sound quality. And every time, they have the devastating experience of realizing that the demo is still better than the recorded version. It happens again and again.
It's only a specific thing. For example, my favorite version of "
Will You Love Me Tomorrow
" is the Carole King version, because that's the version that she put on her
Tapestry
album and my parents played
Tapestry
around the house when I was little. And then much later I heard the Shirelles' version, and it took me years to realize how great, just how devastating the Shirelles' version is. But I didn't know that, because I had demo-itis. I loved Carole's version, because it was the first one that I had heard."